Thank you to authors Joan Lennon, creator of the Slightly Jones detective series, set in Victorian England , and Hazel Allen, creator of the Bree McCready adventure stories, set in modern day Scotland, for tagging me for The Next Big Thing. The idea is that writers reply to some standard questions about their work-in-progress or new book (I've chosen my new book) and then tag some new writers to participate. My answers and new writers follow!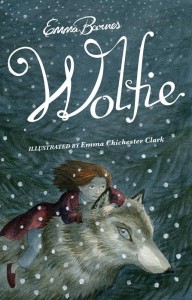 What is the working title of your new book?
Wolfie.
Where did the idea come from for the book?
I was inspired by the idea of snow-filled woods, and a girl and a wolf walking side-by-side.
What genre does your book fall under?
Fantasy/adventure for 7-11 year olds.
What actors would you choose to play the part of your characters in a movie rendition?
One of the main characters is a wolf! She would be beautiful with intelligent eyes
and grey fur. I think Lucie might be played by…hmm…perhaps the youngest child from Outnumbered.
What is the one sentence synopsis of your book?
Sometimes a girl's best friend is a wolf: Lucie's life is transformed when her new "pet" turns out to to be a talking wolf with magical powers.
Will your book be self-published or represented by an agency?
My book is published by Strident Publishing. My agent is Lucy Juckes at Jenny Brown.
How long did it take you to write the first draft of the manuscript?
About six months.
What other books would you compare this story to within your genre?
I'm not entirely sure! But:
Emerald Quest by Gill Vickery features a young girl with a magical companion (a dragon!)
Clever Polly and the Stupid Wolf by Catherine Storr is a collection of stories about a resourceful girl and a wolf.
Books filled with mystery and snow: The Box of Delights by John Masefield, The Snowman by Raymond Briggs.
Who or what inspired you to write this book? I wanted to write a certain kind of story, grounded in everyday reality, yet with a mysterious, timeless atmosphere – and lots of snow. I was inspired by some of the classic fantasy I read as a child – like The Midnight Folk and The Little White Horse.
What else about your book might pique the reader's interest? The Big Bad Wolf is always the villain – from fairytales onward. When wolf meets child, Red Riding Hood is what first comes to mind. But wolves are also sociable and highly intelligent creatures. I wanted to write about a wolf from that perspective.
I'd like to tag five more writers for The Next Big Thing:
Wendy Meddour writes funny stories with quirky characters, such as The Black Cat Detec
tives, which often feature Muslim characters.
Ruth Symes is the creator of the fabulous and very popular series of Belladonna books, about a trainee witch.
Linda Strachan is a powerhouse of ideas, being the author of numerous picture books about Hamish McHaggis, and also gritty stories for teenagers, of which the latest is Don't Judge Me, about an arson case.
Karen Bush writes about horses and dogs, and has recently written a book on gardening with dogs! Maybe that applies to wolves too?
Enid Richemont has written many books for all ages, from picture books, through chapter books, young adult, and now e-books.