The Foundling Museum was the first ever home for abandoned children, where poor parents could leave the babies they were not able to raise themselves.  It is full of stories, many of them heart-breaking.  It is also a beautiful and fascinating place to visit.
And a fitting place for a very special writing project.  Cerrie Burnell is a Cbeebies presenter and as she was born with one hand she knows what it is like to feel "different".  Or at least to be treated that way.  She wanted to bring children's writers together with children who had Special Needs – physical or mental issues that might shape their lives in particular ways.  The idea was to tell stories, to let the imagination flow, and for writers and children alike to feel inspired.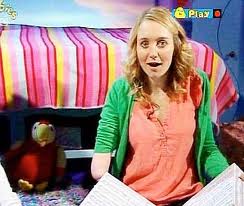 Here is a picture of Cerrie.  I wish I could show one of her crawling along the floor being a snake, while leading the drama workshop, but I didn't have my camera to hand!  I was also too busy being a snake myself.
One of the things that Cerrie wants to do is address the lack of characters with disabilities in mainstream children's books.  That is why she invited authors – to inspire them to create and write stories about such characters.
As a writer it can be quite intimidating to write from the perspective of a disabled child.  It feels almost presumptious, in the way it might if you are righting from the viewpoint of a particular ethnicity or religion not your own.  And where you do have direct experience,  it can feel a bit too personal.
So it is exciting as an author to be given "permission" to explore these kinds of issues, and to imagine myself into a new situation.  I hope to share the resulting stories with you soon.