To organise an event, email EmmaJBarnes@yahoo.co.uk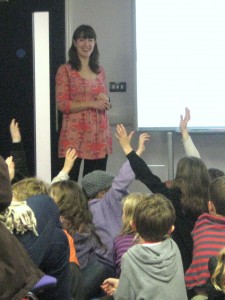 ---
"Emma knows how to keep a tentful of primary school kids engaged and entertained. Organising an event with Emma is easy. She is a delight to work with." – Carolyn Yates, Literature Development Officer Dumfries and Galloway
"Emma visited our school during a Book Week to celebrate the opening of a library- she was FANTASTIC! A real inspiration for the children in both Key Stage 1 and 2 allowing them the opportunity to meet a real author- the books went down a storm too!" – Karen Smith (Deputy Headteacher, Whitkirk Primary School, Leeds)
---
As a children's writer, it is great to have a chance to get out from behind my computer and actually meet the children and talk with them about books. My visits are a chance to chat with children, to answer their questions, have fun and hopefully inspire them with the excitement of stories and the imagination. Encouraging reading for pleasure is always a key aim.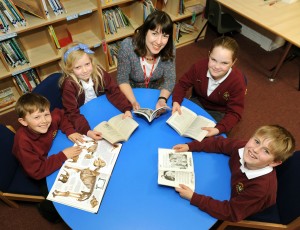 Workshops, Talks and Assembly Sessions.
The structure and contents of my visits vary according to the needs of schools. I can do:
– lively talks aimed at large groups, including an interactive quiz
– class-sized groups, with more time for questions and discussion
– Workshops where the focus is on the children's writing – inspiring even the least confident children to let their imaginations roam.
All sessions are likely to include a reading from one of my books, questions and answers, tips for would-be writers and a chance to be creative and try some story-making.
Experience
I have appeared at the Edinburgh International Book Festival, the Ilkley Literature Festival and the Wigtown Festival, among others. I have done many school Book Weeks and World Book Day events, as well as designing and running workshops for schools. I have also done events and workshops with teachers, University Education departments, libraries and museums.
Practicalities
I am a member of the Society of Authors and usually charge their recommended rates. I am also a member of the National Association of Writers in Education (NAWE) and have been CRB cleared. I live in Leeds, but am happy to do visits throughout the UK (or beyond!) when practical.
For information on author visits to schools or libraries please contact EmmaJBarnes@yahoo.co.uk