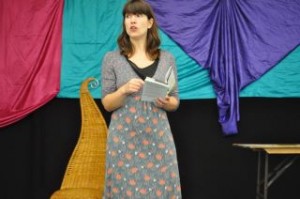 A lot of places feel much the same these days – the same shops, the same cafés – but Wigtown is still very much its own place. Arriving in driving rain, I wasn't sure if this was a good thing. Then the sun came out, and I knew that it was.
Wigtown is a beautiful town on the coast of South-West Scotland, and the Wigtown Festival happens in various tents round the lovely central square.The town is full of book-stores. There are delicious things to eat. What more could you ask? Oh yes – there are also some excellent sessions to attend.
A talk on the Dark Ages of Scotland sticks in the mind – the driving rain was back, but only added to the atmosphere, pounding down upon the tent and sounding like the hooves of an army descending on a Borders battle field. Children's author Philip Aardagh was effortlessly witty and amusing – or so it seemed: I wish I had his knack to hold an audience. There were some insightful sessions on the future of publishing.
My own children's event was held in a marquee in a garden. I had a lovely audience, all eager to hear about would-be scientist Jessica Haggerthwaite, and to participate in a Magic vs Science Quiz. (You can find a similar quiz on this web-site.) The next event (which I stayed to watch) was called Rockets, Robots and Getting Stuff Right, linked to the BBC series Bang Goes the Theory. The garden was full of children launching hand-made rockets, and I reflected that Jessica Haggerthwaite would have felt right at home.
I left in the early morning mist, driven by one of the Festival's lovely volunteers along winding roads to Barrhill Station, and the Glasgow train. Even with the wonderful Carlisle to Settle trainline to look forward to, I was really sorry to leave.
Thank you Wigtown, for inviting me, and for all your wonderful hospitality.