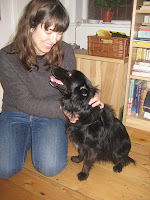 Somebody has been eating my books. Knocking over my laptop. Chewing my manuscripts. Chewing my computer cable. Tripping me up when I set out on school visits. Barking when I am supposed to be writing.
Who is this dangerous creature? His name is Rocky. He may not help my writing but I love him anyway.
He came from the RSPCA shelter and is now definitely part of the family.
If anyone thinks they know what kind of dog he is, then send me a message!