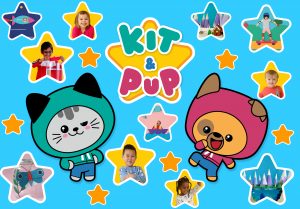 I was really delighted to be asked to write sketches for the new Cbeebies science show, Kit and Pup.
Writing extremely short, funny sketches in a scientifically accurate way that is accessible and fun to preschoolers – well, it's a challenge!
I really enjoyed the experience, especially the chance to work in a "Writersroom", brainstorming ideas with fellow sketch-writers. And Kit and Pup is now on air, including my episodes: Big and Small, Melting and Freezing, Push and Pull and Cardboard.
You can check out the episodes at BBC i-player.